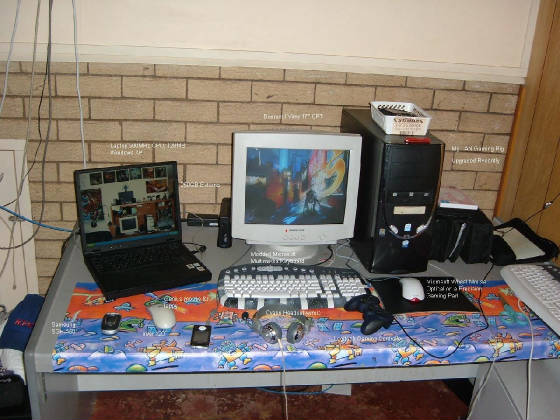 Unfortunately the camera's flash doesn't show the easy lighting in the room. You can see my rig with a few other things plugged in to it, all labeled.

I built this rig myself, got a great bargain on the case which came with an extra 500w PSU. I've got that one in another system the other one consists now mainly of my old parts.
System Specifics:

Motherboard: MSI Neo5 945P

Operating System: Windows XP Professional 32bit

Processor: Intel Core 2 Duo E6750 2.66GHz

Memory: 2048MB Corsair PC5300 RAM 667MHz

Graphics Card: nVidia GeForce 8600GT 512MB

Storage: Seagate 200GB Serial ATA Hard Drive (ST3200820AS), Maxtor 40GB IDE Hard Drive (6E040L0), O2 Noontec 250GB

External USB 2.0 Hard Drive

Optical Drive: Pioneer Black 16X DVD-RW

Power Supply: 450w K-MEX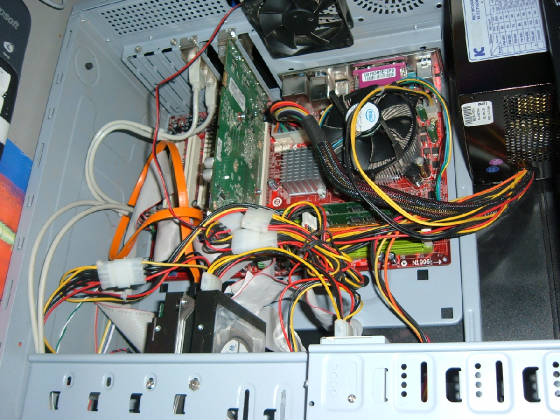 The Guts of my PC.

Although you can't tell, it's running. I've recently upgraded the entire system, now it runs all the games I play seamlessly.

The only thing I've kept from the old setup is the Hard Drive, Case and DVD drive. Had to re-format and re-install the OS but no drama there.

Last time I ran 3D Mark06 I got 4408 3D Marks. Not the best but it runs games better than 3D Mark.

The framerate for the Graphics card is quite high in games like Battlefield 2, FEAR or Counter-Strike Source. Just nice and nice constant rate, mostly around 50-100 FPS depending on the game and graphic load.

In full combat in BF2, the Framerate never drops below 40 and runs really smoothly even after hours of gaming.

This is due to the Dual-core as well as the GPU.