My latest rig and desk setup, as of March 4th 2008.
My latest rig, spent just over $400 on this upgrade, most of it was cosmetic, including lights, fans and a new case.

I also just got an old 15" LCD, and have hooked that up to my old laptop, as well as a small profile keyboard, so I can use that without having to open the lid of the laptop.

My mousepad glows, adding to the theme of red that I have been working on.

Down the bottom of the photo you can just see my new TDK DJ headset, which is great for music, gaming and has very good sound quality. Although it lacks a mic, which is very important for online gaming, i just use the one on my old headset, although i am looking for a better alternative.

As well as many aesthetically pleasing upgrades, including my new desk and chair, which I got for around $200, (chair was $80, desk was around $120) I also upgraded some of the hardware onboard, although most of it stays the same. These incluse a new 20x DVD-RW, for dual burning and reading, as well as a 320GB Western Digital Hard Drive, for data storage.

Motherboard: MSI Neo5 945P

Opersting System: Windows XP Professional 32bit

Processor: Intel Core 2 Duo E6750 2.66GHz (running at 2.72GHz, low over-clock)

Memory: 2048MB Corsair PC5300 RAM 667MHz

Graphics Card: nVidia GeForce 8600GT 512MB

Storage: Seagate 200GB Serial ATA Hard Drive (ST3200820AS), Seagate 320GB Serial ATA HArd Drive (WD3200AAJS-00VWA0)

Optical Drive: Pioneer Black 16X DVD-RW, LG Black 20x Super DVD Rewriter.

Power Supply: 450w K-MEX

Fan Speed Controller, With 2 80mm RED LED fans, one BLUE 120mm fans, 2 tri-LED lights, for internal highlighting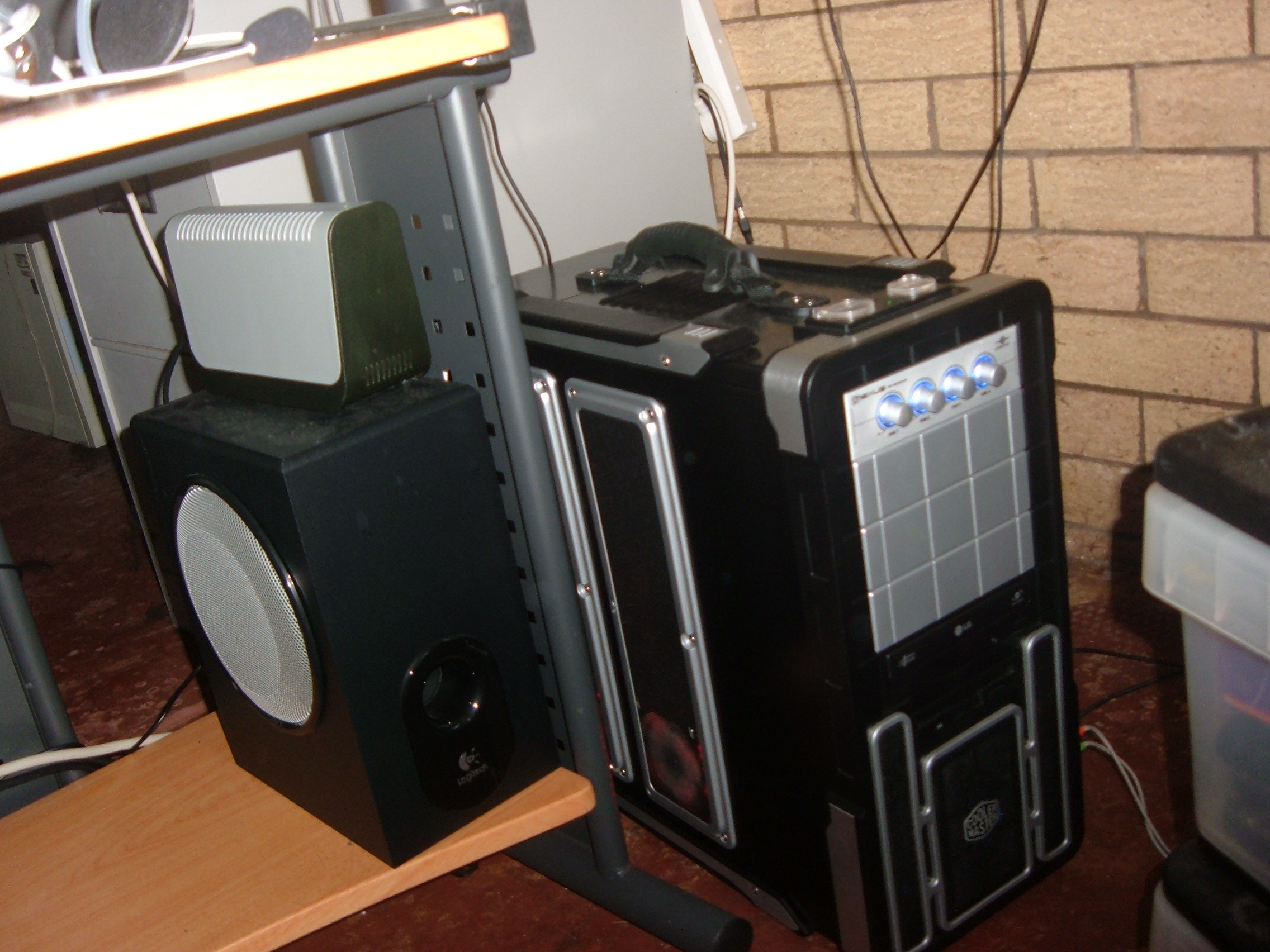 The AMMO 533 is a very easy case to work on, with lots of room and a tool-less design and nice styling. THe only real complaint I have about this case is that there is nowhere to mount fans on the side of the case, The two red 80mm fans on the side are held on with metal pins through the mesh, which provide good ventilation.

I now have a fan speed controller, which is currently hooked up to 3 fans and one of the LED light modules inside the case. The fan speed controller makes it easy to switch quickly between high performance mode, and power saving mode at night.
I'm currently using two 17" 4:3 CRT monitors in Dual View mode, which gives me more space to work with, as well as the ability to monitor hardware and programs while in full-screen applications or playing games.

I will soon be upgrading to two 19" wide screens.

I am using Logitech X-530's, which have very good sound quality and add to the good overall feel of my desk environment. I'm a fan of Logitech, and use their Attack 3 joystick and gaming controller.